01 Jul 2021
GOLDEN AGRI INPUTS LTD. (GAIL) PARTNERS WITH KADUNA STATE GOVERNMENT ON ACCELERATING THE DEVELOPMENT OF THE MAIZE & SOYBEAN VALUE CHAIN IN NIGERIA
---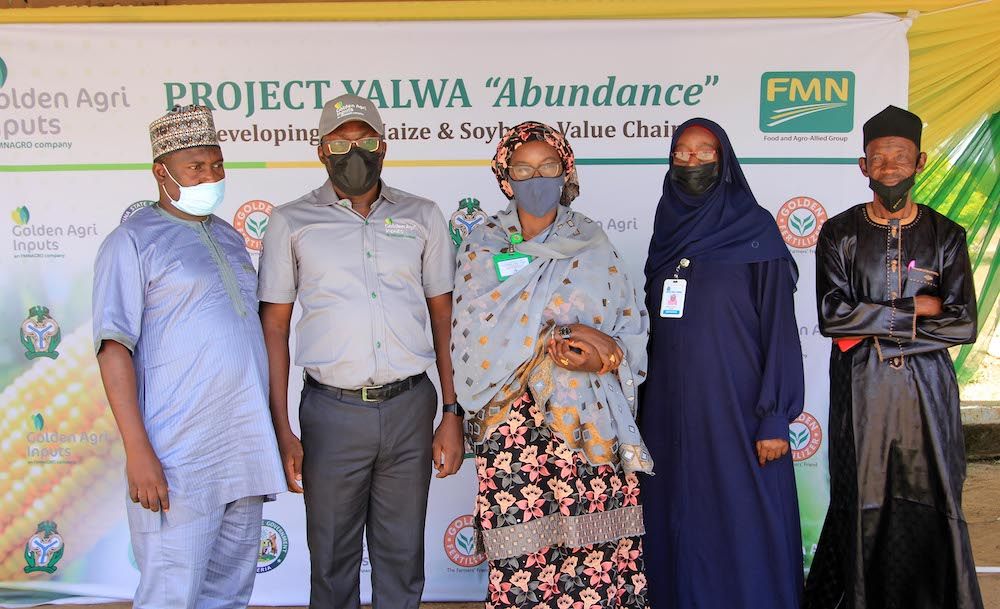 Lagos, Nigeria; July 01, 2021.

Golden Agri Inputs Ltd a subsidiary under the Agro-Allied Division of Flour Mills of Nigeria Plc (FMN) has launched a Maize and Soybean Value Chain Development Programme for farmers called YALWA (Abundance) in Kaduna State following an official MoU signing ceremony with the State Government.

The initiative, which is based on a well-defined Backward Integration Strategy, will be carried out through strategic partnerships, and will include input loans, agricultural extension, agronomy training, farm-gate participation, and out-grower programs for participating farmers.

Speaking at the event, the program's lead, Mr. Olushola Fashedemi, Head of Commercial, Golden Agri Input, disclosed that the YALWA program was designed to aggressively double maize and soybean output in Nigeria through greater yields, improved quality, and competitive pricing. He emphasised that the program will significantly improve the availability of raw material in the country, contribute to the improvement of food security, save millions in foreign exchange spending, and improve the lives of numerous smallholder farmers in the state.

"During the course of the year, the YALWA initiative will have a substantial impact on over 25,000 farmers and up to 100,000 individuals through farmer-household empowerment. Furthermore, the program is expected to be expanded to other states within the next five years, including Niger, Gombe, and Kwara." He stated.

Commenting on the initiative, Honourable Hajiya Halima Lawal, Kaduna State Commissioner informed that the state was fully committed to the success of initiatives like YALWA.

"I am delighted that we are partnering with Flour Mills in implementing this project. It offers us a realistic solution to our quest for economic diversification."

"Kaduna State is first in the ease of doing business and is not relenting in its efforts to provide an enabling environment for private sector participation, increasing investment and scaling up our farming communities to a business level" she said.

In line with its strategy to encourage local content with backward integration investments, FMN is working with renowned hybrid seed companies like Corteva Agricscience and Golden Penny Fertilizer Company to provide support for the project.

It is envisaged that by the end of the program, yields for maize will increase from 2.5mt to 5mt per hectare and soybean from 1mt to 2mt per hectare. To kick start the initiative, all the required inputs were presented to each of the lead farmers in the state.

About GAIL

Golden Agri Inputs Limited (GAIL) is part of the FMN Group which strives through the overarching group's mission of "Feeding the Nation, Everyday" to create value along the entire food chain with its "farm-to-fork" model. This division ensures an increase in the use of locally sourced materials to develop and produce consumer foods and industrial ingredients for local markets.

About Flour Mills of Nigeria Plc

Incorporated in September 1960 and quoted on the Nigerian Stock Exchange since 1978, Flour Mills of Nigeria (FMN) Plc. is one of Nigeria's leading food and agro-allied companies. With a broad basket of food products, an iconic brand "Golden Penny" and a robust pan-Nigerian production, distribution, and supply chain network, FMN is a fully integrated and diversified food and agro-allied group.

The FMN group strives in its mission to "Feed the Nation, Everyday" through its five core food value chains: Grains, Sweeteners, Oils and Fats, Proteins, and Starches. FMN creates value along the entire food chain with its "farm-to-table" model by providing inputs and know-how to farmers, aggregating and sourcing crops and raw materials to supply its world-class processing facilities across Nigeria, and distributing its innovative food brands to its customers.